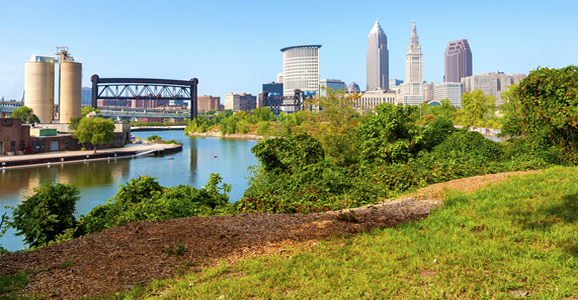 The Community Planning Program has been working since 1996 to promote and support sustainable community development patterns across Ohio. CPP is part of the Center for Community Planning and Development. We work with local officials (City/Village Councils, township trustees, zoning/planning commissions and boards; planning, zoning and building staff); landowners; developers and the real estate community; designers and planners; and the general public. We partner with local communities; County Planning Commissions; neighborhood Community Development Corporations; conservation groups and land conservancies; development groups; and State and Federal agencies to achieve a balanced approach.
We provide technical assistance and decision support on a wide variety of planning, zoning, development, and conservation projects and processes.
We conduct and participate in research that can contribute to better decision making in our region.
We act as a resource and clearinghouse for those in the State of Ohio who are working to achieve a balance of conservation and development.
We provide education through workshops, presentations, and individual discussion sessions.
Projects:
Community and Neighborhood Planning
The Community Planning Program works with communities and neighborhoods to provide a variety of planning and decision support services ranging from comprehensive planning to historic districts, zoning reviews to commercial market studies. Our philosophy is to provide affordable services that help to develop leadership capacity within the community. We provide a range of technical analysis and services that can feed into strategies for economic development, land use planning, revitalization, and open source and resource planning. We have a special interest in neighborhood and community main streets, local manufacturing and cultural business clusters, housing, and parks planning.
Recent projects include a revitalization strategy for Fleet Avenue in the Slavic Village Neighborhood of Cleveland; an economic and fiscal analysis for the Variety Village District on Lorain Avenue in the Westown neighborhood of Cleveland; and a comprehensive housing analysis for the City of Oberlin. Program staff have completed main street retail market analyses for six urban neighborhoods in Cleveland; Middlefield Village, Geauga County; and Olmsted Falls, Cuyahoga County. As part of the Oberlin project, and the Ohio Balanced Growth Program (see description below), we have completed at least a dozen sustainable development code reviews for local governments, addressing a range of housing, student housing, green development, small energy, and sustainable development policies. Clients include the City of Oberlin, City of Kent, City of Geneva, City of Sandusky, City of Vermilion, Village of Bay View, Montville Township, and others.
The Community Planning Program has also completed a downtown district plan for the Village of Jefferson in Ashtabula County. The plan involved assessment of current conditions including historic buildings and economic uses, and evaluation of alternatives for balancing historic preservation with economic development. The Village chose to adopt a Local Historic District and become a Certified Local Government in cooperation with the Ohio Historic Preservation Office.
The Program assisted Southington Township, Trumbull County, on their Comprehensive Plan. The plan is innovative because it was prepared by township citizens themselves, with mentoring from staff of the Community Planning Program, using the "Small Communities Planning Toolkit", developed by the Program. The Program has also assisted the Village of Middlefield and the City of Olmsted Falls with retail and housing market studies, site suitability analyses, and downtown studies, including visitor questionnaires and merchant interviews.
If you are interested in pursuing similar ideas for your community, please contact Kirby Date at 216-687-5477.
Additional Projects:
Ohio Balanced Growth Program: Best Local Land Use Practices The Ohio Balanced Growth Program was begun in 2006 by the Ohio Lake Erie Commission, in response recommendations of the Ohio Balanced Growth Task Force, and also was a statewide program from 2009-2013 under the Ohio Water Resources Council. Kirby Date managed the outreach component of the Program, known as Best Local Land Use Practices (BLLUP) through 2016. The BLLUP program provided education, technical assistance, and research support to local governments in Ohio, focused on implementation of Balanced Growth Policy at the local government level. For more information see the Ohio Balanced Growth web site.
The Value of Balanced Growth for Transportation Staff of the Center for Community Planning and Development conducted a research project for the Ohio Department of Transportation which looked at the relationship of Balanced Growth land use policy to transportation benefits. This was a collaborative project of the Maxine Goodman Levin School of Urban Affairs and the Washkewicz College of Engineering and was completed in 2014.